Our living legacy…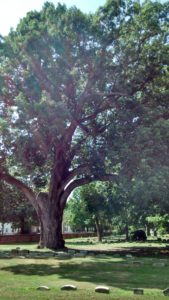 … in 1675, beneath the branches of this oak tree, John Fenwick treatied with the Lenape Indians of Scheyichbi. He convened the sachems who had the dispositions of the lands, within Forcus and Mosacksa creeks (Salem and Oldmans Creeks) by Chiefs Tospaminkey and Henaminkey;
later, for lands between Forcus and Canahockink creeks (Salem and Cohansey Creeks) by Chiefs Allawayes, Myhopponey, Neccomis, Necosshehesco, and Shuccatorey;
finally, for lands from Canahockink creek to the Wahatquenack river (Cohansey Creek and Morris River) by Chiefs Mahawskey, Mohutt, Newsego, Chechenaham, Toruche, and Shank A Num.
"As long as the sun shines and the rivers run,
we shall bind our hearts to yours."
---
Salem Quarter Minute
Supporting State Reaffirmation of the
Nanticoke Lenni-Lenape Tribal Nation
While seeking discernment toward working in the light, clarity came. We learned of individuals' opportunities to reach full potential being denied among New Jersey American Indians. Although they were recognized by the State of New Jersey in the 1980's through concurrent legislative resolutions, the form of that recognition needs to be specifically reaffirmed by legislative statute in order to meet the modern requirements of some federal programs and protections provided to American Indian Tribes. Even with a government study and executive order urging legislative action to correct the issue, the tribe still waits.
Let us recognize the importance of the community's cultural diversity, gifted to us through the lives of the Nanticoke Lenni-Lenape. Let us acknowledge that the Nanticoke Lenni-Lenape Tribal Nation was here before European colonization, through European colonization, and ever since European colonization. Ever since our Quaker forefathers, families and friends settled in the south Jersey region we have maintained friendly relations. Let us faithfully love thy neighbour.
Our testimonies – peace, social justice, economic justice – have received attention and light. In order to live our truths, knowing that there is that of God in each of us, the members of Salem Quarterly Meeting unite in urging the State of New Jersey to reaffirm the Nanticoke Lenni-Lenape Tribal Nation.
 approved Ninthmonth, 2012
---
Salem Quarter Indian Affairs Committee Affiliations:
Get acquainted with our local Nanticoke Lenni-Lenape Tribal Nation friends by visiting their Tribal Government website. Discover their unique Constitution, Confederation, citizenship; Tribal status, non-gaming policy, online museum; public notices; events, and newsletter. What has been hidden can now be seen! We Are Still Here, by the Rev. Dr. John R. Norwood (Nanticoke Lenape,) is free and downloadable here.
The Nanticoke Lenni-Lenape Tribal Nation "is acknowledged by the State of New Jersey through both concurrent legislative resolution and statutes." Find full details of the Tribe's lawsuit seeking reaffirmation, NLL v. NJ, and media articles posted by their legal council, Cultural Heritage Partners.
Commonalities can be found between Nanticoke Lenni-Lenape Traditional worship of the Creator and Christian practices. Discover these religious practices – beliefs, Tribal Prayer Circle, special posts, audios, and other resources – within 1st Light Mission blogspot.
---
A Talk by the Water
Salem Quarter Friends have maintained a relationship with the Nanticoke-Lenape for over three centuries. Salem Quarter's Clearly Quaker Podcast #3 is an informal "Talk by the Water" presentation by Dr. JR Norwood on October 1st, 2016 at the Tri-Quarter Gathering of Friends held by the lakeside at Camp Ockanickon in Medford, New Jersey. Click the white arrow below to listen to this podcast.