The 1756 Lower Alloways Creek Friends Meetinghouse is located on Buttonwood Drive in Hancock's Bridge, New Jersey. A typical mid-18th century meetinghouse, it retains its old benches and interior panels made of seasoned New Jersey pine. Windowpanes are of Wistarburg Glass and the exterior brick was made from local clay. The moveable partitions, separating men and women, remain in place and still operate.
The Alloways Creek Meeting was formed in 1679. The meetinghouse was built in 1756. It was expanded in 1784. The meetinghouse is on the National Register of Historic Places (03001306 dated 12/18/2003) and the New Jersey Register of Historic Places (10/28/2003).
Today the meetinghouse is available for rent for weddings, memorial services, and other events. A large side yard will accommodate a large tent for receptions.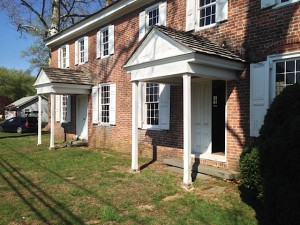 New Jersey Register of Historic Places